We made our first tear-off-a-page-daily calendar in May 2001 to help count down the days to InterVarsity's Following Christ 2002 conference for graduate students, faculty, and professionals. (It showed the date but highlighted in red the number of days remaining until the conference, as shown in miniature at the right, and was set in Trebuchet and Skia.)
Once the conference was over, we sort of missed the daily ritual of peeling off another day. Plus, the used sheets made great scratch paper. So we're back in the calendar business, this time with one that figures a biblical psalm for each day (starting with Psalm 1 on January 1, running in sequence, and restarting when necessary).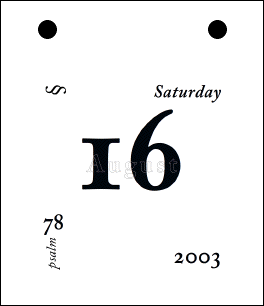 The Octothorp Press Psalm Calendar is generated with FileMaker Pro and laser-printed using a number of faces of Adobe Caslon on Neenah Environment natural-white writing paper (which is acid-free, recycled, and watermarked). Each page measures 3.67 x 4.25 inches (one-sixth of a U.S. letter sheet, to ease production), and two-hole punched with 2.75-inch centers for use with a standard form-clipboard hanger.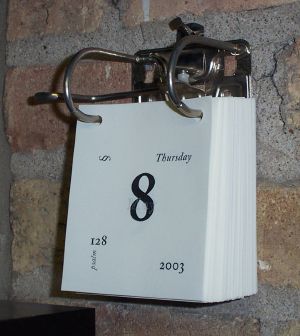 The Psalm Calendar (or any reasonable variation) is available for custom-made purchase at $27.00. We'd love to make you one! Please contact us at sales@octothorp.us if you're interested. #
Day to day pours forth speech, and night to night declares knowledge (Ps. 19:2).